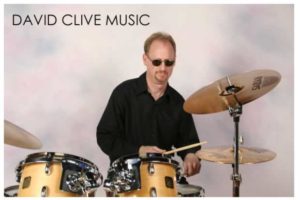 From Jazz to Classical, Latin to Rock, David Clive plays with versatility and passion in every musical style. David began playing drums at age 10 and by age 14 was playing professionally in rock bands. In high school he developed an interest in Jazz and Percussion and studied at the Manhattan School of Music, Preparatory Division. This first experience with percussion inspired his life long dedication to music.
Pursuing his love of Jazz, David went on to Berklee College of Music, followed by his return to New York to study at the Drummers' Collective with Narada Michael Walden, Kenwood Dennard and Chet Doboe. Hungry for more, he went on to study Percussion at C.U.N.Y. and received a B.A. in Music and an M.M. in Percussion from the Manhattan School of Music.
David now teaches Drums and Percussion at Wagner College, the College of Staten Island and in his Brooklyn studio. Past credits also include a stint as the Musical Director of the Long Island Percussion Ensemble and Staff Percussion Teacher at Kingsborough College and The Brooklyn Music School.
David's strength emerges as a performer. On the Drum set, he has an intense awareness of dynamics, which helps the group effortlessly shift between the many moods and textures of the music. Besides his work with The Nawlins Funk Band, Dave also performs a wide variety of music with many different artists on a freelance basis.
He has played with a diverse selection of jazz, latin, and rock acts such as latin jazz band "Iguazu", latin rock band "Fiesta!", Paquito D'Rivera, Slide Hampton, The Jambalaya Brass Band, Soul Rebels, jazz fusion band "The Awakening", "Mike Dorio and the Blues Blasters", "The Jake Walker Band", "The Blues Club", "Hawaiian Express", 50's oldies band "The Impalas.", Robert Charels & The Metropolitan Blues Band, as well as the wedding/show band "Sound of Infinity". He has performed in many Broadway and off-Broadway shows including "West Side Story", "Pirates of Penzance", "The Cocoanuts", "Guys & Dolls" and various freelance percussion gigs. David also plays Vibraphone and Marimba and is knowledgeable on percussion instruments from many cultures.
David cites such drummers and percussionists as Airto, Alex Acuna, Robby Ameen, Terry Bozzio, Billy Cobham, Jack DeJohnette, Horacio "El Negro" Hernandez, Ralph Irizarry, Zigaboo Modeliste, Stanton Moore, Tito Puente, Dave Samuels, Narada Michael Walden and Tony Williams as major influences.
The equipment he regularly uses is a maple Gretsch set with various vintage Gretsch, Ludwig and Slingerland snare drums. He uses Sabian cymbals and gongs, D.W. & Pearl Hardware and Latin Percussion Congas, Bongos & Timbales and Vic Firth drum sticks and mallets.
A collector by nature, David's special interest has been collecting Gretsch drums for over 30 years. His Gretsch drum set from 1935 was featured in the December, 1992 "Drum Kit of the Month" in "Modern Drummer Magazine", The Gretsch Drum Book, and The Guide to Vintage Drums.