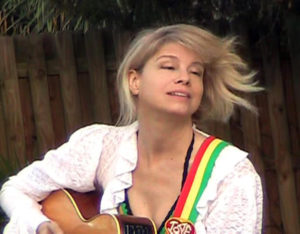 Bonnie Bowers is a world class singer, songwriter, musician, engineer, producer and international reggae recording artist.
Bonnie is a career musician with a lifelong passion for composition and production. Solo or with a band, her rhythms are found irresistible to many cultures and many ages.
She has traveled the world sharing her love of music as a headliner, session player and producer.
Her 'world/reggae' CD "The Best Of All Possible Worlds" on Gekko Rekkords (USA), contains original music and a Grateful Dead cover. The recording brought much attention in the West Indies, home, and abroad ushering a release of the single "I Don't Care" through Sonic Sounds (Kingston, JA). Jamaica's XNews credited the writing to resemble the work of the late Bob Marley. (read more)
Originally from Cleveland, Ohio, Bonnie Bowers started early as a violin and voice soloist and at ten years of age. She went on to professional recording, touring and television appearances, performing large choral and dance productions for a locally based international youth chorus. She had performed for presidents, popes, royalty and more in this chorus and was required to act as an international ambassador of good will.
She studied dance with the Ohio Ballet while working as a choreographer, actress and singer. After moving to New York City, Bonnie studied audio recording as well as bass and guitar while working as an acrobat, background vocalist, session musician, live audio engineer and production manager.